Dog Trainer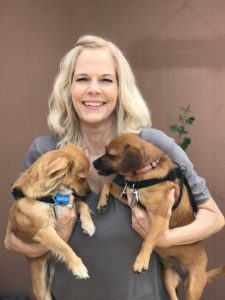 Shawn has had a love for animals since she was a little girl. She spent time with her grandparents on their farm during summer vacations. She insisted on making every animal a family member. Her grandmother was quite surprised when she walked in the front door with a calf on a leash. Shawn helped train the family dog as a child and has been passionate about training dogs ever since.
She has been very involved in volunteering with local animal rescue groups for the past 24 years. During that time she has adopted and fostered many dogs. Shawn has been working with Fido's Finest Dog Training for years training her own dogs. She has also had some fun with agility training.
Shawn graduated with a BA in elementary education from Western Michigan University. She has been teaching, mainly kindergarten, for 25 years. Shawn believes in positive reinforcement. She sees the importance in educating people to use positive training techniques with their dogs. She is dedicated to training to help dogs and their people live happily ever after. Shawn lives in Plano with her husband, four dogs and a cat.