Dog Trainer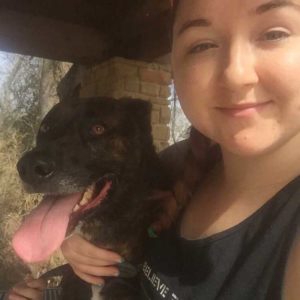 Sarah Maxwell began her love for animals at a young age. Adopting and raising a large breed puppy proved to be challenging. This was her first dog and he grew to be 91 pounds full of energy and intelligence. Raising him in the beginning on her own without formal training led him on a path of dog aggression and reactivity. Realizing she needed help she reached out to several trainers. The first trainer was under qualified and the second trainer used adverse training techniques. With this experience under her belt Sarah decided she wanted to learn about positive and fear-free type training. From 2013-2019 she was employed at the local no-kill shelter (Operation Kindness) and her already existing passion was ignited. Being able to work underneath four different trainers in her 6 year career increased Sarah's experiences and drive to learn. Caring for the displaced animals set her on a journey for better education on behavior and to develop healthy training practices. Her desire to help people keep their animals rather than feeling like they are unable to handle them behaviorally fueled her drive. The increasing intake of family dogs being surrendered due to training issues was enough to have her take it to the next chapter in her career. Sarah got her certificate from Animal Behavior College in 2017 and started to focus on teaching young puppies the best manners possible. She was able to advance her knowledge of behavior and dog body language by working together to help adopting families match with new pets. It was a great responsibility and a priceless reward she was able to work alongside all unique types of families and dogs with vastly different backgrounds.
Working with Fido's Finest allows Sarah to continue to learn and grow with further education on positive training practices. Her focus is not just training, but sharing knowledge that she has collected to allow a healthier bond between pet and owner. As she continues, Sarah's desire is to spread this passion and love for training. This will hopefully relive the amount of animals in the shelter environment as well as work with families that have recently adopted. Sarah enjoys taking the "work" out of training and keep it fun for both the owners and their fur companions.
Sarah lives in The Colony, TX.