Dog Trainer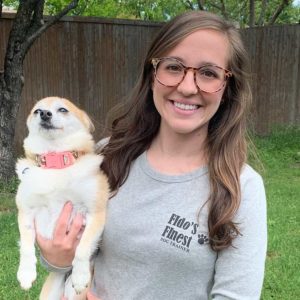 Hannah has always had a passion for animals, and helping them have the best life possible. A dog lover from a young age, Hannah spent time with her childhood puppy, training him to do tricks (albeit she still had much to learn!) and walking him regularly with her best friend and her dog. As an adult, Hannah wanted to put her passion to work, and started working as a dog walker and pet sitter in her area. She started her own small pet sitting business, Hannah D's Pet Services. Hannah has been able to work with many families and pets, making traveling easy for humans and stress free for pets.
Hannah also spent time volunteering at the SPCA of Texas in McKinney, working with the dog behaviorist, helping dogs learn basic skills and manners to get adopted easier. Through this volunteering experience Hannah was also able to attend classes and seminars on dog and cat growth and development. As a trainer Hannah believes a fun and positive experience is a must for both dogs and owners, and she's glad to aid in the experience!
Hannah currently lives in North Dallas with her husband, Adam, 2 dogs, 3 cats, and 2 hedgehogs.