Dog Trainer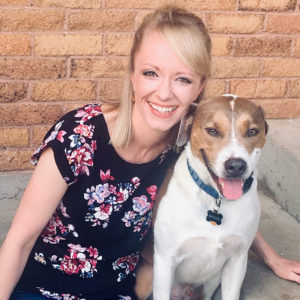 Emilie worked in the animal industry for over 15 years, developing an interest in canine behavior that eventually led to a career in dog training. She graduated from Triple Crown Academy for Dog Trainers (now known as Starmark Academy) with a professional dog training certification and has been training dogs ever since.
Emilie earned her BA in Elementary Education from Texas State University in 2009, but discovered soon after graduating that teaching "furry" children is where her true passion lies. She was the lead dog trainer at an upscale pet resort in Dallas, where she helped implement a comprehensive training program that involved working with board and train pets, teaching group classes and facilitating in-home private sessions. In addition to training dogs, Emilie has fostered through animal rescue organizations and offered pet sitting services, which allowed her to further develop her knowledge of canine behavior. She currently works part-time at a veterinary clinic, where she's spent the last 4 years learning about the correlation between veterinary medicine and animal behavior, in addition to her work with Fido's Finest Dog Training.
Emilie states: "I believe in positive reinforcement training, because it builds trust and strengthens relationships, which brings joy to pets and their people that lasts a lifetime." Animals have always been a big part of her life, and she has enjoyed close relationships with her pets over the years. Emilie has had an Australian Shepherd whom she loved teaching frisbee stunts, a pet rat who learned to come when called, and a Sun Conure who loved to show off his tricks that Emilie taught through clicker-training.
Emilie lives in Richardson Tx with Fancy, her spunky 13- year old Papillon and Moose, her recently adopted rescue dog, who is now her hiking and kayaking buddy.